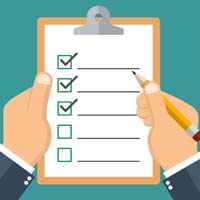 5 Things to Consider When Purchasing a Print MIS Solution
---
When integrated with the various systems within a production environment and the appropriate external systems, a print MIS can provide efficiency to a printer by identifying key information, such as workflow bottlenecks, and by automating tasks such as job estimating and scheduling that can save money. (via Infotrends). But where to begin?
Goals
When purchasing a Print MIS Solution, first and foremost you must determine your goals. Are you looking to reduce lead times, improve customer relationship management and retention, and/or reduce operating costs? Once you establish your key goals for the implementation, you can then clarify other considerations.
Modules
Secondly, what functionality are you looking to implement? There are a lot of modules to choose from and you may not need or want them all. Modules include Print Job Estimating, Scheduling, Inventory, Barcoding, Shipping Integration, and Accounting, just to name a few. Think about what functionality you need, and what will best help meet your organizational goals.
Integration
Integration is number 3 on the list of factors to consider. Do you plan on tying in Print MIS modules with your existing Accounting, Inventory, or Human Resources System? Will you leave them separate, or do you want to migrate the whole system over to one Print MIS solution? This can be a difficult decision, with many pros and cons, depending on your organization. Key considerations include: data migration and consistency; legacy systems; business intelligence; and your implementation timeline. If you're not sure which option is best for your organization, feel free to contact us here at Avanti and we can help you navigate your way through the maze of decision factors.
Price
Budget is clearly a factor when evaluating Print MIS solutions. It's important to consider not only the cost of the solution, but also any organizational costs you may incur such as employee training and ongoing support and maintenance.
Post Purchase Support
When selecting a Print MIS system, one of the most important considerations is Post Purchase Support. You want to ensure you are working with an organization that will support you not only through the implementation but into the future. The organization you are working with should follow through with any employee training that needs to be done, as well as provide technical support. Your relationship should be a partnership, and as your needs change, the organization you are working with should help you ensure the Print MIS system changes with you.
Still have questions? At Avanti, we have answers. Please contact us for more tips to purchasing a Print MIS.