You've Got Questions? We Have Answers.
#AskAvanti offers members of the print community an opportunity to collaborate, as well as have access to ideas and information that we believe can help drive success. Ideas that not only help streamline business processes, but ideas on marketing, and sales, and productivity hacks, and everyday lessons and challenges. Ideas for tomorrow's growth.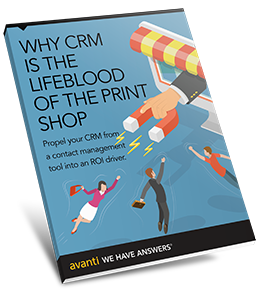 Why CRM Is The Lifeblood Of Your Print Shop
Learn how to propel your CRM from a contact management tool into an ROI driver.
In this eBook, you will find:
How to take advantage of the 3 enormous benefits that a good CRM provides.
The key success factors to a successful CRM implementation.
The critical components, features and capabilities of a strong CRM to ensure you reach your ROI goals.
Download this FREE eBook to help you learn the 3 success criteria for successful CRM systems in the printing industry.
Is There Really any ROI in a Print MIS?
For many shops, the answer is "Yes". But what about yours?
Based on what we have seen in the industry over the years, there are many ways in which printers see the benefits of a Print MIS. While increasing the number of jobs that go through the shop and improving customer satisfaction are great examples of ROI, it's when you dig into the hard data that you can measure the true and full return from your Print MIS investment.
Read the ebook to help guide you through this important decision and learn from the insights of others in the industry.
Included:
An overview of the changing landscape for print professionals and the role of automation in ROI.
The top 3 ways that Print MIS delivers ROI.
Several case studies of Printers across North America authentically sharing their experiences.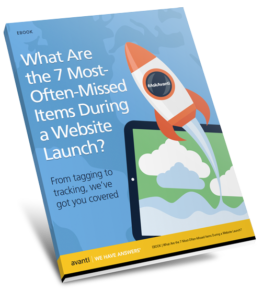 What Are the 7 Most-Often-Missed Items During a Website Launch?
From tagging to tracking, we've got you covered
Is it time to update your website? Are you adding more services to your portfolio, or trying to turn it into a "lead-generating machine"?
Nowadays, there is so much to track in terms of a new website implementation that it can be very stressful. In addition to defining your overall strategy, writing your content, choosing your images, and approving the design, you need to ensure that the right people are finding…and visiting…your new site.
Take a deep breath, download our eBook that lists the 7 Most-Often-Missed Items During a Website Launch, and let that tension go.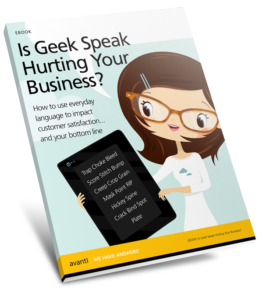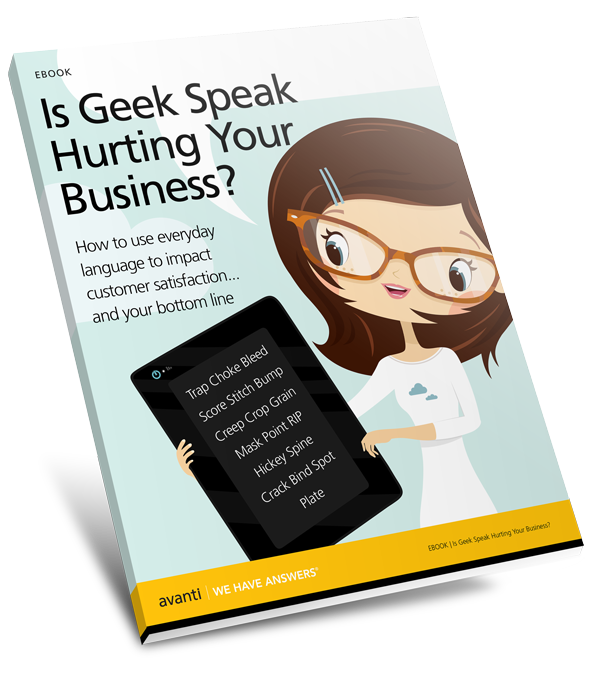 Is Geek Speak Hurting Your Business?
How to use everyday language to impact customer satisfaction … and your bottom line
"Geek Speak" can mean anything from "speeds and feeds" in software, to print terms that we can take for granted. Most businesses no longer have dedicated print buyers. Those tasked with the role of purchasing print may have little or no experience with with printers or the print medium itself. These folks could be digital marketers, administrative assistants, or procurement specialists. Does this sound familiar?
Download our eBook about tips on how to avoid common print "Geek Speak" pitfalls now!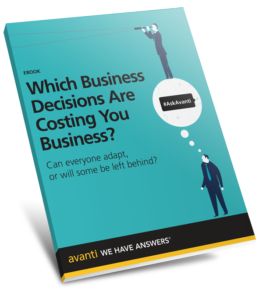 #ASKAVANTI E-BOOK SERIES – PREMIERE EDITION!
Which Business Decisions Are Costing You Business?
#AskAvanti finds answers to your biggest business questions:
Get answers to common business challenges in a 2017 environment.
Find out how to overcome internal processes immediately keeping you from financial success.
Learn how to recognize broader business opportunities.
PRINTERS TALK ABOUT AVANTI
Printing and Marketing Group, Inc. Sees the Big Picture with Avanti Slingshot

"Everyone's finally starting to see the big picture. Once you start working in estimating, you realize your true costs. We can look at history, particularly in outsourcing, and it's all in one place. We no longer need to run around and find information."

Our Daily Bread calls Avanti Slingshot a "Game Changer"

Other systems were either far behind Avanti or over-engineered. We could have spent far more on other MIS solutions, yet not received the benefits and personal attention we get from Avanti.

Sull Graphics Integrates Technology For Business Growth

"Our number one priority is the same as it's been since day one, and that's quality. We'll continue shipping our very best work to our customers and, with Avanti Slingshot, we can do it more quickly, accurately and profitably."