---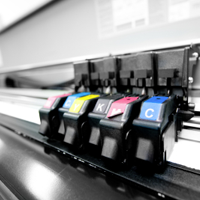 With the start of a new year, many commercial printers are asking the tough questions of: "what's in store for my print shop" and "how can I maximize profits?" By now most of our readers have stumbled across articles regarding the hot topic of large or grand format printing. Some are considering the investment, but are hesitant to make the leap out of fear that their investment will not be worth it.
This past September, Avanti participated in a Print Media Centr panel discussion in the Printerverse booth at GRAPH EXPO called "Living Large: Penthouse Possibilities with Wide Format" that touched on this very topic.
The panel ranged from substrate providers to software providers to large format press manufacturers. Interestingly enough, panel member across the board all agreed upon a few key points for commercial printers thinking about venturing out into the Wild West of wide format for the first time. Amongst the panelists was Avanti's own Director of Product Management, Stephen Feldman.
Printers are questioning if they should enter into the world of Large/Grand Format.
Most large format manufacturers at GRAPH EXPO will agree that many printers and show floor attendees are thinking about venturing into the world of wide format. They know it's a growing market and they want to jump on board while there's still time to make a presence, but they haven't seen enough demand within their customer base to justify the cost.
The fact of the matter is that once you have the equipment, people start asking for the product. They realize the service is offered, so the demand becomes much more plentiful than it had previously been. That first wide format press is the gateway for many print shops because, as Mutoh America's, Brian Fipps had pointed out during the panel discussion, "once they're in, they're in."
Large/Grand Format Opens Doors to Profitability and New Revenue
The growth of wide format in the marketplace offers new revenue streams for commercial printers. Randy Paar from Canon Solutions explains, "if margins keep decreasing year after year, wide format is an excellent opportunity to put profitability and growth back into your business. Even just relying on your existing clientele there's already a customer base that you could leverage. The types of applications are astounding."
Today, wide format has surpassed the old days of printing signs and banners. Now you can print on manufactured goods as well. Because of this, commercial printers are able to diversify their business in ways that have never been done before.
Investment in Large/Grand Format Equipment, when coupled with good workflow and estimating software, almost always pays for itself within six months or less
Large/Grand Format demand is increasing by the day and the marketplace is getting (no pun intended) larger, not smaller. A solid MIS solution can simplify a printers quoting process and measure the printers return on a given job. The solution can also help with inventory management and "Up-to-the-Minute" information to help provide superior customer service. All of this helps Large/Grand format printers see their return, especially for those just starting out in the marketplace.
These days the Large/Grand format technology allows printing to be done on practically any substrate with countless finishing options. The rising need for customization, personalization, quality, and little to no run length limitations has created even more opportunity for wide and grand format printing.
Oftentimes printers will have a variety of technologies on their shop floor that they need to optimize in order to maximize profitability. From the perspective of a software vendor working with customers who are in the large/grand format marketplace, seeing that return on investment is a given.
During the panel discussion, Avanti's Stephen Feldman said, "We do Print MIS and one of the things that we really help large and grand format print shops be able to do is make it better, faster, and cheaper. We think about the standards, whether they be estimating standards or substrate standards, and we really help them understand the business that they are selling. Then they can manage their costs better, be more responsive to customers, and provide a wide variety of services that help grow their business."
Print MIS, such as Avanti Slingshot, has helped many printers do just that. Almost all the panel members agreed that most printers entering into wide-format for the first time will see an ROI in under six months.
Tom Wittenberg from HP summed it up the best during the panel discussion when he said: "When it's bigger than you and you're smaller than it, you feel its power."
Do you have questions about adding large or grand format to your print shop? We have answers. Tweet to us and use the hashtag #AskAvanti.
For more on this topic, you can watch the full panel discussion by clicking here. Don't forget to let us know what you think!