---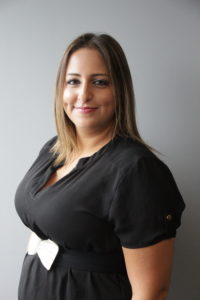 Meet Michelle Gelula, Avanti Classic Support Manager
Going "above and beyond" is the hallmark of great support. According to her customers and teammates, Michelle Gelula, Avanti Classic Support Manager, does this regularly. Michelle, who started working at Avanti straight out of University five years ago, speaks about her passion for helping customers, and how she fosters team-work and creative solutions.
Tell me a bit about yourself.
Michelle:"I grew up in Thornhill, a community North of Toronto. My husband, who is a contractor, and I are celebrating our 10-year wedding anniversary this August which we are very excited about. We live in our newly renovated house with two adorable Yorkshire Terriers or Yorkies.
I'm very interested in real estate and interior design. We recently purchased a house which was a total eyesore – my husband and I renovated it from top to bottom. We broke down walls, added a completely new kitchen, re-did the washrooms and much more.
When I'm not working on the house or other DIY projects, I enjoy spending time with friends, going to the beach, waterpark and picnics. I also very much enjoy horseback riding which I try to do at least once a week."
What is the overall contribution of the Classic team to Avanti
Michelle:"I contribute to the Classic team by offering my support and advice. I also contribute deeply to employee morale by advocating for and coordinating team-building events collaboratively with the Development and Product Management teams. I strongly believe that breaking down communication barriers and developing relationships outside of work boosts morale and generates higher productivity.
"I believe in an 'open door policy' where my team is welcome to come and ask any questions without scrutiny. There is no such thing as a stupid question."
What do you do from day-to-day in your role?
Michelle:"My routine can change drastically depending on the day. Generally, I'm on the phone with customers assisting with high-priority issues. I have several 'focus' customers, where we attend status meetings to set objectives to get them to where they want to go. My job is to prioritize their issues and ensure that we meet these objectives in a timely fashion. I also visit customer sites and offer helpful advice.
On those visits, I look at their workflow to determine how it can be improved in terms of efficiency. This can be through integrations or by simply changing how information is entered.  Customers are encouraged to ask questions so that I can make recommendations for their scenarios. The feedback from these visits can be fantastic.
I also oversee the Support team by reviewing their tickets and assisting with escalated situations. I collect metrics directly from our customers, record and report CSAT's (Customer Satisfaction survey results) from our customers monthly. We have regular meetings and lunch n' learns as well."
What do you most love about your role?
Michelle: "My favorite part of the role is taking a customer and making them love the Avanti system! There is nothing more gratifying than hearing customers raving about our system and our team, giving them newfound confidence in our product and support team.
"I take the time to listen to the customer, understand the bigger picture and come up with creative and sometimes unconventional ways to resolve their issues. This could not be done without the Support and Development teams. It is a group effort, but I enjoy coordinating and maximizing our resources to achieve the best possible results."
What were you doing before you joined Avanti?
Michelle: "Avanti hired me straight out of University where I graduated from the Graphic Communications Management (GCM) program with a Bachelor of Technology. During my studies at Ryerson University, I worked as a Project Manager, a Freelance Graphic Designer and as the Copy Center Lead for Staples."
Avanti coordinated with Ryerson and sent out a job description to graduating students at GCM. I recall Stephen McWilliam, VP of Operations, presenting at one of my classes and specifically remembered his enthusiasm about the company. This was a factor in deciding to go with Avanti because it gave the sense that it was a great place to work."
How did you advance into your position of Product Support Manager at Avanti?
Michelle: "I advanced through a lot of hard work.  My goal was to move up in the company and work towards a management position. I consistently went above and beyond expectations and developed personal relationships with our customers, working hard to make them happy. I also ensured I developed great relationships with my coworkers and tried my best to be there for them.
I think a big part of my success was due to the great guidance of Jared Conway, the General Manager of Technology and Software. Jared has always encouraged me and given me opportunities to shine. I participated in the last four user conferences, even though I have stage fright, they turned out to be a huge success. It gave me an opportunity to show Avanti what I'm made of, and how far I can go given the chance."
What are some causes that you care about?
Michelle: "I care very deeply about animals, whether it be household pets or ones in the wild. On top of caring for our two dogs, I and often donate what I can to shelters."
If you had one piece of career advice to give, what would it be?
Michelle: "The best piece of advice is to never give up! Believe in yourself and make everyone else believe in you too. You will never know what you can achieve until you challenge yourself and "go for the gold".