---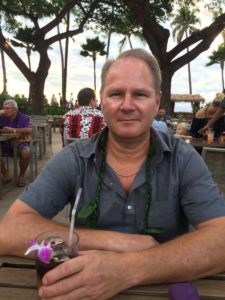 The Avanti development team is the lifeblood of everything we do here.  Without them, Avanti Slingshot wouldn't be where it is today with new features and integrations.
As an Application Architect and lead developer on the team, Tim Dol has been with Avanti long enough to see the progress and evolution of Avanti Slingshot. His ideas and passion for technology has been a contributor to our success. Here's a bit about him and what inspired his career path.
Tim Dol grew up in Newmarket, Ontario. Today, he lives in a village called Holland Landing, just north of Newmarket with his wife Lynn.  He has been married for 29 years to Lynn and they have two children; Michael (24 years old) and Megan (21 years old). Megan is currently at the University of Waterloo studying Health Sciences. Michael is following his grandfather's footsteps and has joined the family construction business. With the family home always under a state of construct, Lynn can attest that the thrill of seeing transformation to something new resonates strongly in this family.
Tim fell into alignment with his calling for technology early on. In fact, it was developing a program for a punch card device in high school that roped him in and he's never looked back. He was fascinated by the mechanics and the logic behind the actions. In 1982, instead of joining the family business, Tim began his studies for System Analysis and Design at the DeVry Institute.
His career has always been in developing software technology. The only motivation Tim needs to get going in the morning is a cup of "joe". As a developer, you need a place where you can think out of the box, solve problems, and share ideas. It's important to work at a company that provides personal development and enables you to drive innovation. When asked to describe his experience working at Avanti, he said "innovative, supportive, and great workplace". He likes being challenged everyday and working with people who are great at what they do. His father once said, "Enjoy what you do and you'll never work a day in your life".
When he's not a work, Tim likes to golf with his street posse in order to unplug. As Tim says "It's great when your neighbors, wives and kids find commonalities and enjoy spending time together". This year the crew is heading to Florida for their Annual Golf trip.
This year marks 12 years that Tim Dol has been with Avanti.