For the record Jr: Paul Tarascio
This post originally appeared on Graphic Arts Magazine

Written by Natalia Lumby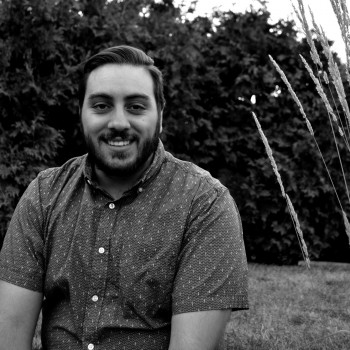 Paul Tarascio is that rare combination of loud and courteous. His charming personality and friendly demeanor make him a poster "people person". I had the pleasure of both teaching Paul and working with him in a student group. He naturally takes on leadership roles, and is quick to become the "dad" persona. I'm excited to see how this will develop throughout his career.
Tell us about yourself
Life after graduation has been somewhat of a blur. After leaving Ryerson's Graphic Communications Management program I have been throwing myself into my career 150%. I bounced around to a few different positions from sales to prepress back to sales and finally where I am now, an Implementation Specialist at Avanti.
I work closely with our customers as they embark on the journey that is a Print MIS Installation. Specifically, it is my job to ensure that customer is fully trained in the software they are purchasing and that the transition period goes smoothly.
With customers all over the United States and Canada I am constantly on the move. Week in and week out I am usually on a plane flying to somewhere in North America I haven't been yet. Although not a vacation, it is pretty amazing to always be on the go. This may not sound like everyone's cup of tea, however I am having a blast and there isn't anything else I would ask for.
What is the most interesting graphic arts project you have seen?
After being to so many print shops you start to notice some trends. I have definitely been intrigued by the rising use of grand format equipment and the leaps not only of quality but also the connection with other printing processes. One of the more interesting projects I have come across lately was the combination and utilization of grand format printing and 3D printing.
Complete the following sentences:
I am surprised that in the graphic arts industry we still…
…use QR Codes. I am surprised that we haven't adopted more advanced ways of getting our information out there. I hope we move forward and leave the blurry little squares behind.
In 30 years books will….
Rise up and enslave the human race!! OK, that may a little farfetched but so is assuming books will disappear off the face of the earth. I think books will have a long future ahead of them and the rise of digital technology is not going to stop that.
Which areas of your life have gone digital and which do you think will remain on paper?
Even though I don't think books are going anywhere doesn't mean I choose to use them. I like to consider myself an early adopter of anything digital. I bought an e-reader back when they were in black and white and didn't have touch screens. The minute tablets hit the scene I had to have one, and as I sit here writing this I can feel the vibration from my smartwatch situated on my wrist alerting me that there is some new way for me to completely leave behind the analogue world. I embrace the digital times that are upon us and encourage the growth of the industry.
All of this may seem a little hypocritical as I do work in the print industry and the switch from paper to digital may put me at risk. However I do not believe that the world will change overnight. Paper will have a place in this world for a very long time.
What keeps you up at night?
Nothing, I sleep like a log every night..is what I wish I could say.
More often than not I am mentally reviewing my schedule and to-do list. My focus since joining the workforce has always been to be the best at my job. Each employment opportunity has been a test. With the effort I put into work I often find myself thinking of how to better balance my home and work life together and that alone could keep me up for hours.
What makes you excited to come to work in the morning?
As cliché as it may sound if you enjoy the work you do then no day feels like "work". I have been fortunate to work for a company that provides me with such unique experiences daily that I wake up every morning excited for what the day will bring.
The free coffee helps as well.
Do you have a mentor? If so, tell us about it and tell us why you feel mentorship is important?
I was going to choose Yoda as my mentor but I'm not sure if choosing a fictional mentor is appropriate for a magazine column. However, if I were to choose him I would explain that it is because he has always believed in the power of passing on what you have learned. Since he was the greatest Jedi Master ever, its hard not to agree with him.
Mentorship is vital to an individual's growth both personally and professionally. A mentor provides not only guidance but also subconsciously makes you strive to become a better you both personally and professionally. I can think back to my time at Ryerson University, I had many mentors. Professors like Chris Kular, who helped me understand realities of the print industry, and students like Olivia Parker, who showed me the benefits of hard work and dedication. My interactions with both these individuals have helped my development in life. It is for these reasons that I feel mentorship is important.