---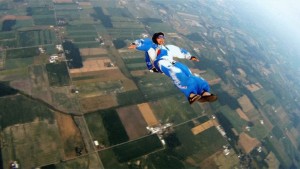 David Lunardi, Regional Sales Manager at Avanti, was born in Providence, Rhode Island and is the oldest of four siblings (2 boys and 2 girls). When he's not out selling Avanti Slingshot, you can likely find David by looking up. Into the sky. Likely about to jump out of a plane. Because David is an avid skydiver, having completed more than 2000 jumps!
"Skydiving and running are my main hobbies, but I enjoy most outdoor activities including snowboarding, motorcycle riding, hiking and fishing. My wife and I just got new mountain bikes, technically they are Fat Bikes, which you can ride in the snow for year-round biking."
David has been married for 20 years and has two wonderful boys. Skylar is a high school senior and Massimo is a high school freshman. And yes, the whole family gets in on the action. Although the boys are too young to skydive (you must be 18 or older in the US), they camp, snowboard, hike, bike, fish and sometimes run races together.
Wow!
David studied International Business at Lake Erie College in Ohio and spent most of his sophomore year studying in Florence and Perugia Italy. But David didn't have a "typical" University experience. In fact, David's first year was spent at an all-girls University. His dad was the Italian Professor at Lake Erie College, which meant free tuition for the kids … at this all-girl University. Of course Dav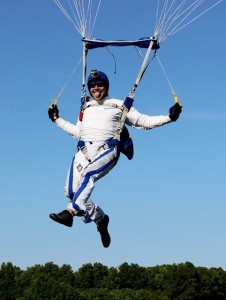 id took advantage of this great opportunity, which included studying in Italy. After that it was a regular co-ed school with the juniors and seniors attending as part of an affiliate senior college. But as a freshman in college, "I was the only guy in my classes".
David has been selling MIS/ERP software to businesses for over 25 years and joined Avanti in 2011. He had been selling IT solutions, but was itching to get back to selling MIS & ERP software to businesses and organizations.
When asked: what influenced you to get into this business, David answers simply, "Patrick Bolan did". Yes, our very own President and CEO, Patrick Bolan. As David tells it, "I met Patrick when he was VP of Sales for a start-up software company and he hired me on his team. The start-up company was restructured a few times and eventually sold. Most of us went our separate ways, but Patrick and I stayed in touch. About 8 years later, he reached out to me about joining the Avanti Sales team and, as they say, the rest is history."
Over the 25 years that David has been selling MIS/ERP software to businesses he's noticed a shift in priorities and objectives. In the past, the software focus went from being Y2K-compliant, to helping grow revenue by "selling more". Today, businesses are focused on the "do more with less" approach. They're looking at saving money and at achieving a compelling return on investment. And they're recognizing MIS software as the solution that addresses both needs.
With this shift in business objectives, David's approach with his customers has evolved over the years; he has been professionally trained in the Solution Selling methodology, by Michael Bosworth, and leverages this approach to manage and execute sales cycles. He has also been trained in Power Presentations and Customer Centric Selling. It's no wonder David has been named salesperson-of-the-year six times for three different companies.
True to form, the last book that David read was: Demonstrating to Win! By Robert Riefstahl. The last movie he saw? The Wolf of Wall Street. And finally, when asked his favourite music/artist, David's answer is simply, "whatever my wife is listening to in the house". Apparently his year at an all-girl University taught him well.