---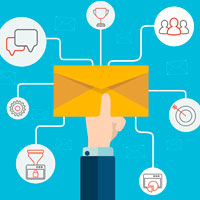 Many print shops have added Direct Mail Services to their portfolio in order to become the "one-stop shop" for their customers. However, managing the Marketing Services portfolio of business is very different than managing Print Production. Mail Estimating alone has some unique challenges and requirements that traditional Print Estimating cannot handle – postage and drops being two key examples.
Avanti Slingshot's Direct Mail Management module is designed for print shops that provide direct mail services as part of their product offering and need to plan, cost and manage all facets of the Direct Mail process.
This webinar will demonstrate:
• Direct mail estimating: Fast, accurate estimating of all elements of a project including postage, data services, drop and inserts.
• Postage accounting: Deposit management and reconciliation of each client's postage activity, for all types of postage including stamps, permits, franked and metered.
• Plan, manage and track multiple drops including items to be part of the drop, quantities within each drop, drop locations and the mandatory drop completion dates.
• Billing/Accounting: Manage refunds, overages, and available funds for timely accurate Invoicing.
• On Demand Management Reporting: Open/closed mail drop shipments, client-level postage deposits vs. usage summaries, postage inventory.
• Integration with BCC Mail Manager Full Service™
Mail and Postage Accounting takes away the guesswork and extra labor from your mail distribution processes to manage and streamline your mailing processes, so you can focus on your customer and your business. From postage estimating to mail drop management to postage expense reconciliation, Avanti Slingshot reduces the effort required to consolidate postage receipts, payments, and reporting.