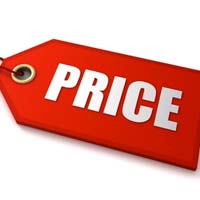 Tips and Tricks
How to use Average Pricing with Charts
---
If your print shop offers quantity discounts (and who doesn't!) or if you want to encourage your customer to order larger quantities, you can set up the step pricing or average pricing depending on the quantities ordered.
Of course, what you want to avoid is encouraging behaviour that actually reduces your revenue – which is possible if you don't use a "step charge" approach.
For example, perhaps you offer 5 cents a copy up to 100 copies and 4 cents for over 100 copies. If you don't use a "step charge" approach and the customer ordered 100 copies, they would pay $5.00 … if the customer ordered 101 copies, they would pay $4.04 – we sure don't want that!
Avanti has a feature that makes sure that doesn't happen. With Avanti Price Charts, you can offer average pricing or step-charge calculations:
Price Charts are located under Tool | Setup | Company | Customer Price Charts: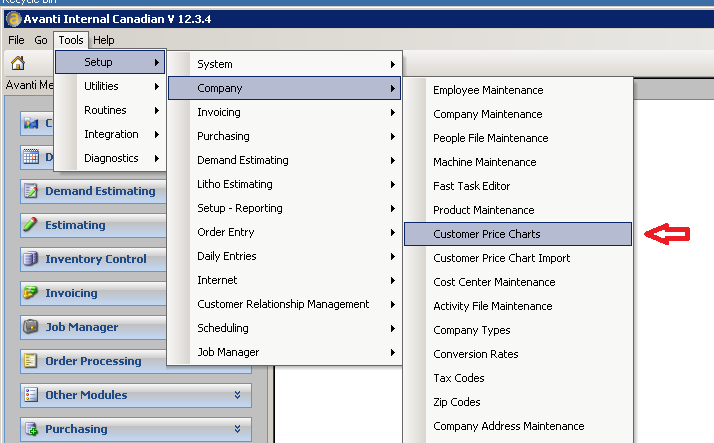 You'll want to leverage the Advanced Features of Price Charts: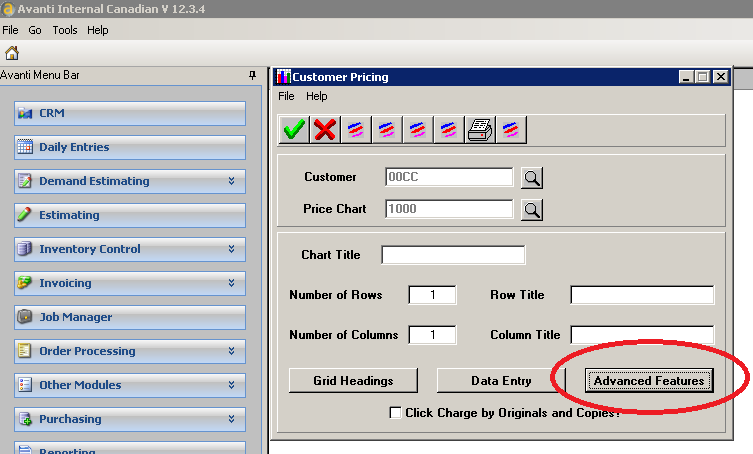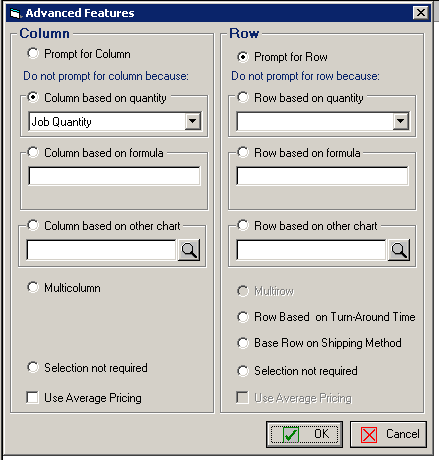 We store the different price levels for a product in a chart. The column headers are the quantity breaks. We have a default pricing chart but individual customers can have their own pricing chart with different quantity breaks and prices.
Sample default chart: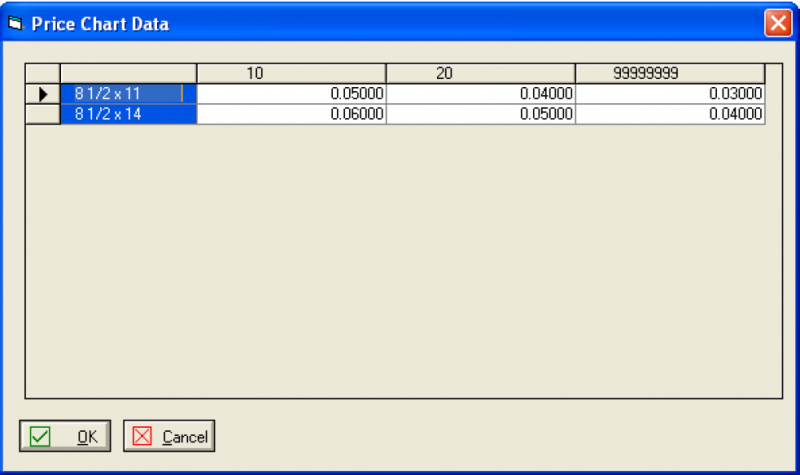 The price chart would be setup as above. The user would be prompted for "Row Only". Column would be selected based on Quantity ordered.
Order of a quantity of 15, using the first Row, would be calculated as follows:
(10 x 0.05) + (5 x 0.04) = 0.70
Explanation of Charge:
The first 10 are always at 5 cents, the next 20 are always at 4 cents, and any items above that will be at 3 cents, for the 8.5 x 11 selection. The break points will be user defined within the price chart.
Special Instructions:
When creating the price charts, the following needs to be considered:
– define the column heading as your break points.
            Note that the last column MUST be defined as 99999999 (not 20+) 
– Click on the 'Use Average Pricing' box
          This feature can be used for:
Column based on quantity
Column based on formula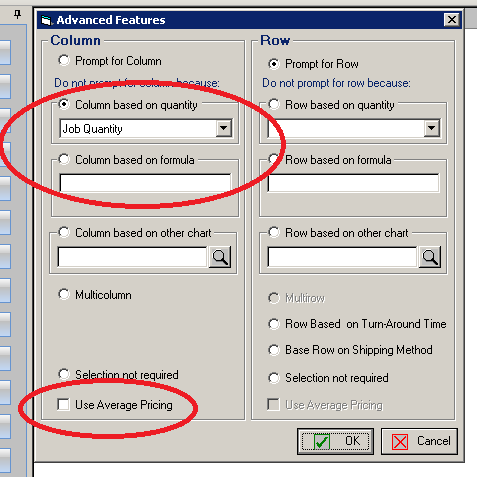 Click okay to accept the changes.
Now you're good to go!!!