WHO DO WE HELP?
Avanti Slingshot is your print MIS platform, focused on your business needs, so that you can focus on your customers' needs.
Ready to learn more about Avanti Slingshot?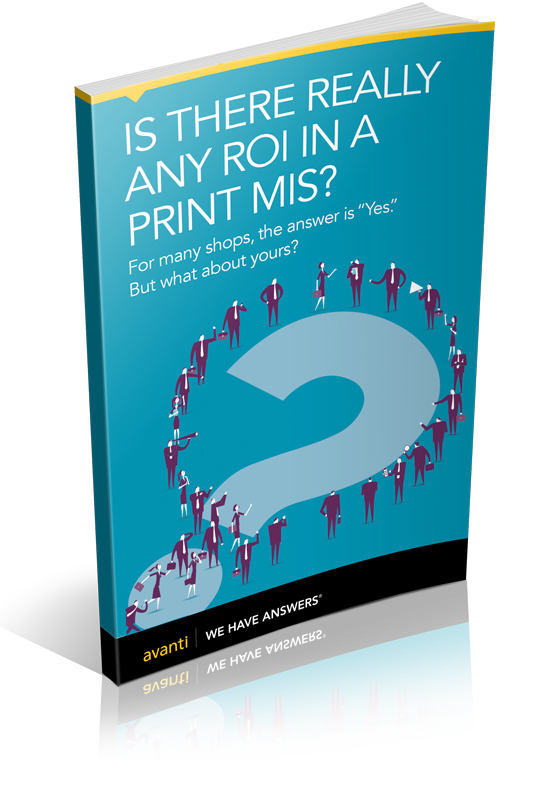 OUR LATEST EBOOK
Is There Really any ROI in a Print MIS?
For many shops, the answer is "Yes". But what about yours?
Based on what we have seen in the industry over the years, there are many ways in which printers see the benefits of a Print MIS. While increasing the number of jobs that go through the shop and improving customer satisfaction are great examples of ROI, it's when you dig into the hard data that you can measure the true and full return from your Print MIS investment.
Read the ebook to help guide you through this important decision and learn from the insights of others in the industry.
Included:
An overview of the changing landscape for print professionals and the role of automation in ROI.
The top 3 ways that Print MIS delivers ROI.
Several case studies of Printers across North America authentically sharing their experiences.
Printing and Marketing Group, Inc. Sees the Big Picture with Avanti Slingshot

"Everyone's finally starting to see the big picture. Once you start working in estimating, you realize your true costs. We can look at history, particularly in outsourcing, and it's all in one place. We no longer need to run around and find information."

ASU Tackles Big MIS Challenges with an Avanti Slingshot

Avanti Slingshot has streamlined our estimating process and allowed us to capture all our costs. I no longer need to be tied to my desk in order to manage effectively. I can create an estimate right in a customer's office, or access my operation from any laptop or mobile device using just a browser.

Sull Graphics Integrates Technology For Business Growth

"Our number one priority is the same as it's been since day one, and that's quality. We'll continue shipping our very best work to our customers and, with Avanti Slingshot, we can do it more quickly, accurately and profitably."

Our Daily Bread calls Avanti Slingshot a "Game Changer"

Other systems were either far behind Avanti or over-engineered. We could have spent far more on other MIS solutions, yet not received the benefits and personal attention we get from Avanti.