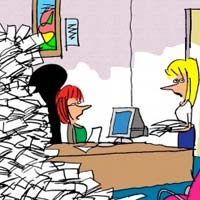 How I became more productive in 2015
---
Matt Prusa – Channel Development Manager – Avanti
It's about that time. Nearly half of us made a New Year's resolution and, according to research from the University of Scranton, "getting organized" is the second most popular New Year's resolution. Add my name to that list.
Probably, like most, my digital footprint seems to grow each year – multiple email addresses, calendars, to-do lists, social media for work and to be social, and the need to collaborate. Years ago I was told these tools would help reduce stress and increase my productivity. But every so often, it just feels like my digital footprints are resulting in the exact opposite.
So, I resolved to find productivity tools that work better together. Over this last year, several people have told me that Evernote has made a "big difference." For those who are unfamiliar, Evernote is an online note-taking tool with apps that bridge the online world with your mobile devices. It is easy to combine notes into notebooks – work notes, home improvement notes, recipes, etc. You can even "clip" web links, emails, virtually anything from your digital world! It is also easy to share a notebook to collaborate with others. A few years ago, I signed up for the free version, but never really embraced the Evernote system.
To get restarted, I began to look for resources that could jumpstart my comfort level. I always feel like I am only using about 30% of software without real training. A couple of my "Evernote power user" friends suggested a YouTube channel by Dotto Tech and bloggers, Jamie Rubin and Michael Hyatt. These resources have definitely increased the ways I now use Evernote.
The next phase is integrating Evernote with a To Do List manager (ToDoist), an online Calendar system (Sunrise), and a scanner app (Scannable). My focus has been to ensure that all these systems work together seamlessly – whether online or on my mobile device, tablet, etc.
I'm one month into the New Year… and starting to reap the benefits of these Productivity Tools. Now, when I enter data into my mobile device I have instant access across all my devices. I have various calendar and task views covering all areas of my life (family, work, organizations) in one system. And it's now much easier to collaborate on projects.
What about you? How do you plan to manage your digital footprint and stay productive this year?