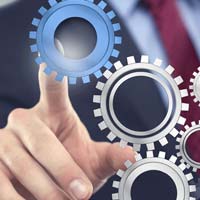 Better Business Through Workflow
---
Workflow software typically encompasses estimating, ordering, job scheduling, inventory, proofing, shipping, and fulfillment. An integrated solution can provide all of these elements while communicating clearly with a RIP and working cohesively with color management software tools.
The major reasons a print service provider (PSP) considers an automated workflow center around increasing efficiency in the workplace, which in turn presents other opportunities. Efficiency means lower labor costs and increased profitability. Taking this a step further, implementing an automated solution that reaches from end to end of a workflow provides an additional level of organization.
A PSP needs both short- and long-term goals to ensure return on investment. These objectives address both the shop itself and how the changes affect customers. As each is achieved, the print shop can focus on growth and not the more mundane practices of maintaining a business.
Making Business Better
Automation helps a business succeed. Implementing a fraction of automation minimizes human errors and multiple touch points found throughout the workflow.
"Most print providers are using three to six different 'systems' to run their business," admits Denise Brooks, sales coordinator, ShopWorks. This includes paperwork for orders, spreadsheets, and other software for quoting, scheduling, and accounting. Since none of these systems properly "talk" to each other, challenges occur such as employees repeatedly entering the same information. "This means more time doing paperwork and the chances of a mistake being made on an order are increased."
One of the main reasons a PSP should integrate an automated workflow, according to Ellen Faith Hurwitch, director of operations – the Americas, RedTie Inc., is because a company's biggest hidden cost is labor. "An automated solution reduces that part of your overhead dramatically."
"Printing is a manufacturing business that highly depends on yield. In other words, creating the most consistent and automated process possible to avoid costly errors, delays, and human intervention directly affects profit margins and being able to compete in the marketplace at all," explains Vitaly M. Golomb, CEO, Keen Systems, Inc.
It's all about reducing touches on a job, admits Stephen McWilliam, EVP of marketing, Avanti Systems. He points out that customers have twice as many jobs coming through their shops then two years ago—however, run lengths are shorter, which means there is less revenue per order.