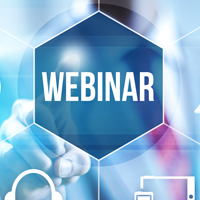 Boost Production With These Can't "MIS" Webinars in 2017
---
It is the New Year and now is the time to set your teams and company up for success. As you look ahead at your roadmap and the milestones you want cruise past, take time today to consider how a Print Management Information System (more commonly referred to as Print MIS) can play a critical role in your team's success. Whether you provide marketing services, large or grand format solutions, digital/offset printing, or provide mail and fulfillment offerings, , Avanti leads the industry in delivering innovative, efficient and cost-effective solutions. To prove it, we have put together a regular, educational and free webinar series; Thursdays at 2 p.m. Eastern Time that we know will change your business outlook.
What is incorporated in this educational webinar series? Our Avanti experts have curated the best-of-the-best from what you will need to know in the world of Print MIS. And we have married that to relevant proof-points and benefits of the Avanti Slingshot platform.
For example, this week our webinar topic is Save Money and Eliminate Manual Tasks with Avanti Slingshot's Triggers and Alerts Module. The goal of this webinar is to share the impact of reduced manual tasks with real-time alerts and triggers. Automation and elimination of long-standing manual processes may seem daunting, but this webinar will show you how simple it is with the support of a team of experts and a robust Print MIS system that's built to keep your shop running and informed 24/7.
On the 26th of January, come back at 2 p.m. Eastern to look at ways to Save Time & Money with Avanti Slingshot's Gang Run Tools. Ideal for Commercial and In-plant shops, and a winner of the 2015 MUST SEE 'EMs at GRAPH EXPO, this webinar will delve into ways to streamline optimal sheet requirements for a host of finishing sizes—envelopes too.
The first week of February, we invite one of our customers and partners to join our webinar series for The Journey to Selecting a Print MIS: Bound to Succeed with Ricoh & Avanti. During this session, Bound to Stay Bound, will take you on their journey of selecting a Print MIS. No matter if you are at the beginning or nearing the end of your own journey, the tips and insight shared by Bound to Stay Bound, Ricoh and our experts at Avanti will prove to be invaluable. And you won't want to miss the key ingredients to a successful implementation.
For our large and grand format print shops, we invite you to join us on the 9th of February for Quick and Easy Large Format & Grand Format Estimating with Avanti Slingshot. If your goal includes better large and grand format estimates, then this is a webinar made for you. Using our 2015 MUST SEE 'EMs winning Avanti Slingshot solution, we will show you how profitable estimates can be created with ease, while being based on actual costs. Take the guesswork out of your estimating in 2017.
Nearing the end of February on the 23rd, we will take you through A Day In The Life of the Automated Print Shop featuring Avanti Slingshot Print MIS Solution. Don't worry; you don't need to be a technical genius to attend this webinar. Designed for Print Professionals with experience in commercial or in-house operations, this session will provide insight, and a path to obtaining the return-on-investment (ROI), that is only achieved by a fully integrated Print MIS.
Make your resolution today to join these complimentary webinars from our team here at Avanti and discover the value a Print MIS can bring to your daily print operations. Be sure to sign-up today, space is limited!
Want to learn more about the critical role that Print MIS can play in your organization to help you achieve your business goals? We have answers. #AskAvanti.