---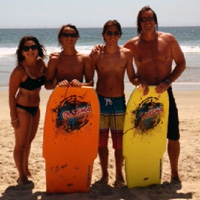 It's always fun to share a little bit of the background of members of the Avanti team. For this issue, our spotlight shines on Duncan Ellis.
Duncan is both a pillar and positive mentor on the Avanti team. He is the Director of Professional Services. Duncan and his team champion Avanti's implementation process, which is focused on improving our customer's workflow and making them more efficient.
Our customers, and channel partners rely on Duncan and his team to help navigate through the complexities of implementing a new system, as well as manage system upgrades. The team works diligently to deliver flawless execution, while managing issue resolution and escalation in a professional way.
Duncan started his career in Graphics and Print Management 15 years ago. However, prior to that he had a very different career. He was a High School teacher. Duncan holds three university degrees; a Bachelor of Physical and Health Education degree, a Bachelor of Education degree and, finally, a Master of Education degree. Dunc has won three provincial championship titles as an athlete in Rugby and Alpine Skiing, and as a coach in  Hockey. Duncan loves the challenge of sport, the demand of personal physical strength and endurance. For him, "sports do not build character, they reveal it".
Born and raised in a small town just outside of Barrie, Ontario called Shanty Bay, Duncan grew up living on a farm. Although his parents didn't raise livestock, his family did enjoy country living. His dad was a PhysEd teacher at the local high school, and his mom was the guidance counselor who managed the school co-op program. Now you know where Duncan gets his love for learning! His appreciation for education was bred into him.
His first driving experience was on his dad's 1958 John Deere. No, it wasn't for his first date! Teleport 30 years ahead and here we have Duncan today still riding a John Deere, living on his own 4 acres of property in Caledon.
As "empty nesters ", Duncan and his wife Maria, enjoy travelling to scenic and archeological destinations. One of his favorite trips includes Machu Picchu, a Peruvian Historic Sanctuary built on a mountain ridge in the 15th century in Peru. Next week, he and his wife will be travelling to Vietnam. With its broad history and wonderful beaches and rivers, there is no doubt these explorers will have a fantastic time!
The best advice he has ever received was "It doesn't matter what you want to be, just be the best at it". Advice from his dad, it is a creed he lives by and one he tries to instill in his own sons.
What has impressed Duncan most about Avanti, since joining the team in January 2017, is the Avanti user community. Last May, he attended the Avanti User Group Conference in Denver, and was struck in awe by the passion in the room, throughout the conference. This collaboration of industry professionals left its strong mark on Duncan.  "This amazing group of professionals are incredibly passionate and supportive of the software. They truly carry the Avanti energy. I love working with this great group of people".