---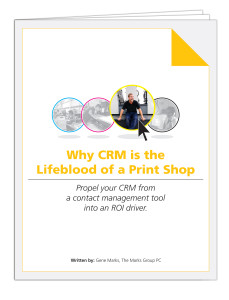 Do you want to grow your print business? Does your CRM give you real-time visibility into all departments within your shop?
The key to becoming more customer-centric and maintaining customer loyalty is information! Gaining insight into what your customers are seeking will allow you to react quickly to customer requests and anticipate future needs.
Learn the 3 success criteria for successful CRM systems in the printing industry.
Avanti asked Gene Marks, journalist and author, for his perspective on how the print industry could benefit from a CRM tailored to its specific needs. Gene writes daily for The Washington Post and weekly for Forbes, Inc. Magazine, Entrepreneur and The Huffington Post on business mgmt. issues.