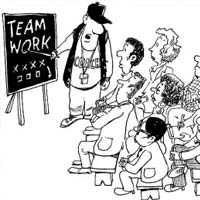 Take a team approach to selecting your next Print MIS
---
John Alden – Regional Sales Manager – Avanti
March Madness is my favorite sports time of the year. I love seeing college basketball athletes challenge each other while working together to achieve their goal of winning the tournament.
But this season is also an annual reminder to me of how important it is to work as a team. While we often think about teamwork on the field or on the court, sometimes we forget how critical teamwork is in the office and business environment too.
Teamwork is especially important to any print organization seeking to evaluate and select their next MIS. Because teamwork doesn't work very well if only one or two people always have the ball, or if those who make the assist aren't valued as much as those who score. The most efficient and effective business results are achieved when the organization gathers input and important insights from everyone the MIS will impact.
What does the lead estimator need? How will the operations manager make everything work? Is there a way to help the warehouse manager move inventory more efficiently? Will the financial and revenue objectives be achieved? What do your sales and CSR teams need to be more efficient and responsive to the customer?
By ensuring that the entire operation is represented on the Print MIS team, and that every player has a voice, you can define the true key requirements that will serve as the foundation for the appropriate MIS selection. This will also facilitate an easier  implementation because the whole team will already be familiar with the process, and can provide their buy-in, expertise and support.
And don't forget to think beyond just today's team; consider tomorrow's team as well. Syracuse coach Jim Boeheim is No. 2 on the list of all-time winningest coaches (Go Orange!), in part because he uses a consistent zone defense that withstands the test of time. As you define your Print MIS requirements, make sure you consider how future team members will leverage your system over the next 5 to 15 years.
If we can assist your team in some way, just give us a call. In the meantime, happy March Madness – and may the best teamwork win.